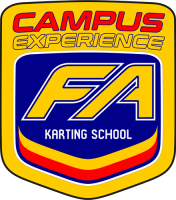 KARTING CAMPUS experience
Throughout the week (Monday through Friday), participants will learn the basics of the world of karting from the best trained instructors.
During this week of coexistence, we will promote healthy competition, fellowship, the desire to learn and many of the values that every professional pilot should have.
All our instructors have extensive experience in the world of motorsports.
They will teach you all the secrets to perform the best lines in the Fernando Alonso Circuit. They will learn the meaning of the flags in the competition circuits as well as all the safety regulations to finally be able to perform a race in the purest professional style.
They will complete their training with simulation and reflex tests, just as professional pilots do.
For all our team, one of the most important points is the safety of our participants, so we will make available to the participants the best materials on the market approved for the competition.
Ages of participants: 7 to 11 years old
No previous karting experience
(The minimum number of participants is 10. If the minimum number is not reached, the Foundation reserves the right to cancel or postpone the dates)
Schedule, price and payment methods
The schedule is from Monday to Friday from 10.00h to 17.00h (parents/guardians are advised to be there 15 minutes before the beginning and end of the activities).
The price per participant is 700€.
FORMS OF PAYMENT:

WEB BOOKING 200€.
TRANSFER 500€*.
*(The full amount of the Campus must be paid before the beginning of the course in the time and manner agreed by the Foundation).
Complete karting course
Lunch and mid-morning snack included
Use of approved equipment*.
* At the end of the campus, the equipment must be returned to the organization in the same condition in which it was delivered.
---
Transfers to the Fernando Alonso Museum and Circuit and overnight stayare not included and will be paid by the participants.
In which week do you prefer to come?